Kerala
Madurai is in the state of Tamil Nadu in southern India. Madurai is the third largest city in Tamil Nadu. It attracts tourists for its historical monuments. Meenakshi Amman Temple, an historic Hindu temple located on the south side of river Vaigaiis, is one of the most prominent landmarks of the city. Madurai Junction is an important railway junction in southern Tamil Nadu, and Madurai Airport (approximately 12km from the city) is one of the most important airports in Tamil Nadu.
Weather
Summers are from April to June. Monsoons, with high humidity and thundershowers start from June and remain till September whereas rest of the year shares pleasant weather.
Tourist Attractions
Meenakshi Amman Temple a historic Hindu temple located on the south side of river Vaigai is one of the most prominent landmarks of the city.
Thirumalai Nayak Palace organizes sound and light show in the evening in English & Tamil languages. There is also a museum, which displays portraits of Thirumalainaicker, stone carvings of the 17th century, and sculptures of Hindu Gods Brahma, Nataraja, Saraswati.
Koodal Alagar Temple famous for three stairs of the Lord's posture. On the first level is the sitting posture of the lord, another level up is a standing posture of the lord, and the 3rd is the lying down posture of the lord.
Alagar Temple which is 20 km away from the city and near the hills, is famous for the Chittrai Festival (April or May). It is popular for worshiping the Lord who is considered as the brother of Goddess Paravathi.
Lakes
There are several lakes in Madurai to visit for day outings and boating: Viswanathapuram lake is in Thiruppalai, West Madurai. Periyaru Canal, Lake Manjampatti in Madurai West and Vaigai river in Madurai are all very beautiful.
Entertainment Activities
Madurai is famous for its Chithrai Festival which occurs during the months April or May, during the Hindu month of Chithrai. Thousands of travellers visit the city for this carnival. It is equally popular for both locals and travellers.
Cuisine
Paruthipaal, jigarthanda, panangkarkandupaal and chettinadu, appam, kuzhipaniyaram, and last but not the least, Tender coconut drink and Madurai traditional Tea & Coffee are popular Madurai dishes among locals and tourists who enjoy tasting something different.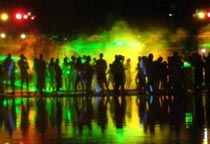 Night Life
Madurai is popularly called Thoonga Nagaram which means the city that never sleeps. Maduari has an active night life attracting many domestic and international tourists.
Create your own tours, ask experts for assistance...