Jaisalmer
Jaisalmer, built with yellowish sand stone is known as the 'golden city'. It is located in west of Rajasthan approximately 500 km from the capital city Jaipur. Jaisalmer is recognized as World Heritage Site for its majestic forts, palaces and Jain temples. This heritage town lies in the heart of the Thar Desert which is also popularly called The Great Indian Desert.
Weather
Best time to visit Jaisalmer is from October to March when the weather is neither too hot nor too cold. Jaisalmer summers start in April and remain till June when the temperature is very high. The Monsoon season starts from July and remains till September with high humidity and the winter season is from December to March when days are warm but nights are cold.
Cuisine
One can try Rajasthani snacks like Pyaaj Kachori, bajreki roti with lashunki chutney, Dal-Bati-Churma, which you can get in every city of Rajasthan. The best reason to visit Jaisalmer especially for food lovers are its authentic Rajasthani dishes.
Tourist Attractions
Jaisalmer Fort:is situated in the city of Jaisalmer, and is a World Heritage Site. The key attractions within the Fort are Raj Mahal also called as Royal palace, Laxminath temple, Merchant Havelis (palaces) and four massive gateways.
The Thar Heritage Museum in Jaisalmer is widely visited and admired among tourists for its history and culture, as well as its collection of well-preserved art from the Thar Desert.
The PatwonJiki Haveli is another key attraction in Jaisalmer and most admired among all the Haveli's in Jaisalmer. It is also well known as the 'mansion of brocade merchants' This is the most impressive Haveli in Jaisalmer because of its gateways, architecture, minarets, balconies and arches. One can reach this Haveli by rickshaw or walking through the lane near the Patwa Complex.
Lake
Gadsisar Lake is one of the prime tourist attractions in Jaisalmer. It is situated near 'Tillonki Gate' in Jaisalmer, and the nearby Bharatpur Bird Sanctuary ensures that a variety of birds can be seen around the lake. One can also see variety of temples surrounding the lake as it is a holy spot for religious seekers. One beautiful gateway was built here by a royal courtesan named Tillon at the end of 19th century. Lord Vishnu's statue was installed at The Gate of Tillon, and the gate was declared as Krishna Temple.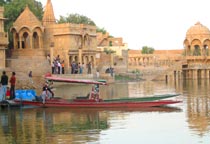 Entertainment Activities:
Jaisalmer is also known as Princely State and is well-known for its Havelis and Forts. One can enjoy long walks while exploring forts and palaces in order to capture Rajasthan's old era.
Night Life
After sunset enjoy evening with cultural dance & music along with hookas, whereas the state also has dine-in restaurants with folk music for evening fun and relaxation.
Create your own tours, ask experts for assistance...