Jaipur
Jaipur, also known as the Pink City, attracts thousands of tourist and travellers every day to explore its fascinating forts and magnificent palaces every day. The city is admired for its colorful fairs which have a royal touch. One can be a part of unique festivals like Elephant festival, Teej festival, Kite festival, Gangaur festival and the Camel festival. The best time to visit Jaipur is from October to March.
Jaipur Weather
Monsoon starts from June and remains till September and summer starts from April till July with approximately 30 °C temperature. Winters, from November to February are pleasant.
Jaipur Cuisine
Being the Capital of Rajasthan, Jaipur is popular for its authentic traditional cuisine. The popular dishes include Dal Baati Churma, Missi Roti with traditional sweets like Ghevar, Feeni, Gajak, Chauguni ke laddu and Moong Thal.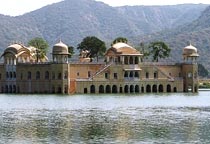 Jaipur Lakes
Ramgarh Lake is interesting. Around 4 km in length and 2 km in width, one can try boating which is open during months from October to June and is very liked by tourists.
Sambhar Lake which is also India's largest saline lake, extends approximately 190 sq km. It is good pick for a day trip and boating.
Jaipur Tourist Attractions
Hawa Mahal: This five-storey palace is 50 feet high. The interior of the Mahal has marble rooms of various colours, while fountains decorate the centre of the courtyard. The palace is built in red and pink sand stone, reflecting the true colours of Jaipur as the Pink City.
Amer Fort: It is located high on a hill built by Raja Man Singh I. Amer Fort is known for its creative Hindu style. You can see the large walls, series of gates and mended paths. Within the fort one can explore Diwan-e-Aam or the "Hall of Public Audience", the Diwan-e-Khas or the "Hall of Private Audience", the Sheesh Mahal (mirror palace) or Jai Mandir, and the Sukh Niwas.
Jantar Mantar: The Jaipur observatory is the largest and best preserved. It is listed as a World Heritage site.
Nahargarh Fort: Nahargarh fort was originally named as Sudarshangarh, but later it became Nahargarh, means 'abode of tigers'. It is one of the favorite draw-cards among tourists while visiting Jaipur.
Jal Mahal: also known as the Water Palace, is located in the middle of the Man Sagar Lake. It is an iconic beauty best explored in the evening.
Jaipur Entertainment Activities:
Jaipur is known for Palaces and Forts fun act to perform where you take a round and witness huge palaces, hills and forts surrounded around water.Visitor attractions include the Hawa Mahal, Jal Mahal, City Palace, Amer Fort, JantarMantar, Nahargarh Fort, Jaigarh Fort,Sri kali Temple, Sanganeri Gate and the Jaipur Zoo.
Jaipur Night Life
Tourists enjoy clubbing, dine in and live bands in restaurants and clubs along with musical events.
Create your own tours, ask experts for assistance...